Whatsminer M3 Setup Guide for BTC mining with Luxor Mining Pool, refer to the instructions below.
Model MicroBT  Whatsminer M3 from MicroBT mining SHA-256 algorithm with a maximum hashrate of 12Th/s for a power consumption of 2000W. Read more about setup and configuration of whatsminer M3.
What is Whatsminer M3?
MicroBT Whatsminer M3 is an SHA-256 algorithm mining equipment sold by Red Bag technologies. With a maximum hashrate of 12,000,000,000,000 and 2000W of power usage, it can mine Bitcoin (BTC).
The PSU is included in the $394.79 USD cost.
Whatsminer M3 Installation
First step is to connect a PSU (Power Supply Unit) to your Using the Whatsminer M3, you can use specialized power supplies that are either designed for servers or just for mining bitcoins. Connect all of your power supply's power cables to the power headers on the top side of the miner. Check this document to make sure you're connecting the cables properly. You need one cable for the controller and the rest for the hash boards.
Next connect a Ethernet cable to your miner and the other end to a router or switch device. The miner will then start operating once your PSU is turned on.
Go on a computer or mobile device that is part of the same network as the miner next. You will need to enter in the miner's IP address. Since most miners now come with DHCP enabled you do not have to manually set the IP address, you just need to look at the IP table on your router or use a scanning tool. The IP Report button (above) on the controller board should be clicked. You should be able to find it by holding it down until it beeps (about 5 seconds).
You can look up every device on your network's IP address using a scanning tool like AngryIP.
After getting your miner's IP address, you are ready for Configuration.
Configuration of Network Settings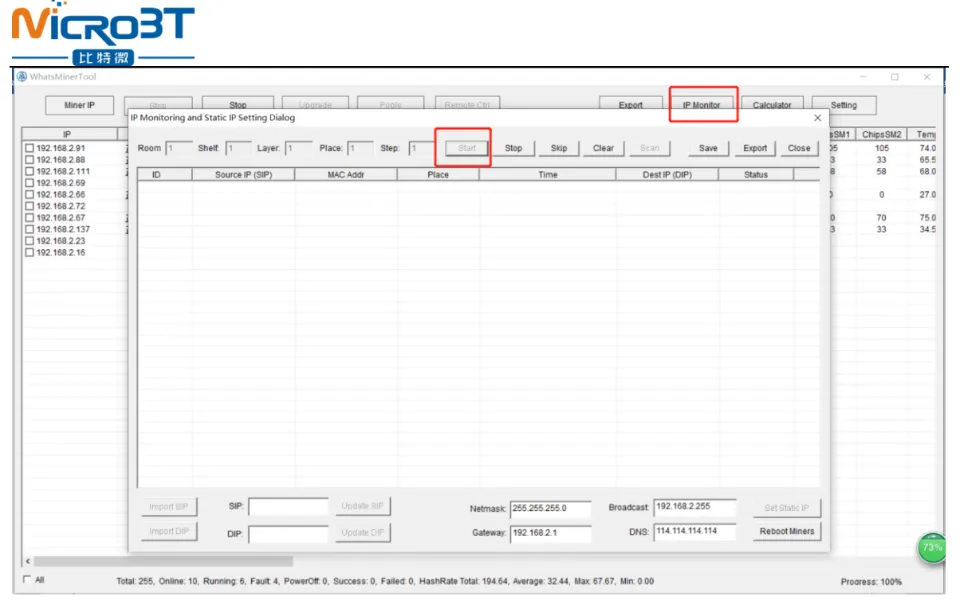 First, you need open a web browser and enter the miner's IP address. A dialog box will pop up which requires you to enter the login credentials; both username and password are "root".
Click the "Network" tab and choose "Static" from the drop-down menu for protocols
Key in the IP address, subnet mask, SWG, DNS, then click "Save&Apply"
Mining Pool Setup
Unified Global Stratum Endpoint
Without having to worry about regional configurations or port numbers, it automatically proxies your miner's TCP connection to the closest available region. Additionally, to avoid any loss in hashing, your miner will automatically direct itself to the closest region if the nearest region is momentarily unavailable for any reason (bugs, cloud-provider maintenance, etc.).
Set Up a Luxor User Accounts (Optional)
Make a User Account with Luxor to gain access to enhanced security features and more control over your mining operations.
You decide when you want to be paid with manual payouts and custom payment thresholds. Choose a payment threshold that works for you.
Monitoring Revenue and Miner Performance on Luxor
Grab a beer once you've begun hashing! For your worker to show up on our stats page, please allow 5 minutes. Go to app.luxor.tech and click the Workers tab to find your user.
FAQs
What is the Official WhatsMiner Website?
The only official #WhatsMiner website is whatsminer.com and the only official #MicroBT has a website at microbt.com.
Is Free Bitcoin Mining Real?
Yes. Libertex provides free Bitcoin mining to its users via a virtual miner. With our virtual Bitcoin miner, there are no up-front costs or fees.