What Are Crypto Mining Stocks?
Crypto mining stocks represent shares in companies engaged in mining cryptocurrencies like Bitcoin, Ethereum, and other digital assets. Mining involves verifying transactions and adding them to a blockchain, a public ledger. Miners receive newly minted cryptocurrency coins in return for this service. Companies specializing in crypto mining operate data centers with specialized hardware for these intricate computations.
Investing in crypto mining stocks provides exposure to the crypto market without directly owning or managing cryptocurrencies. These stocks offer a less volatile entry into the crypto space, as these companies often diversify their business models. These may include data center operations, mining pool services, blockchain tech applications, and hardware/software development related to mining.
These stocks trade publicly on various exchanges, with performance influenced by factors such as:
Cryptocurrency Prices: Higher coin value boosts mining profits. Technological Efficiency: Better hardware and software lower mining costs. Energy Costs: Electricity usage affects profit margins. Regulatory Environment: Legislation impacts mining operations and profitability.
Popular crypto mining stocks belong to firms with significant roles in the crypto ecosystem, offering services beyond mining. This includes companies like Riot Platforms, Inc., Marathon Digital Holdings, and BIT Mining Limited.
Top 3 Crypto Stocks
1. BIT Mining Limited (NYSE: BTCM)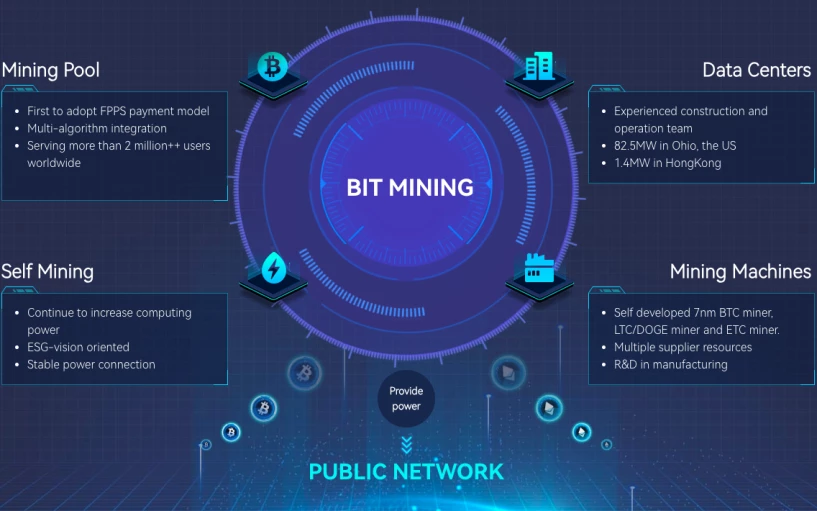 BIT Mining is a blockchain data service and mining pool solution provider. It focuses on self-mining, data center operation, mining pool, and miner manufacturing. The company operates a cryptocurrency mining data center in Ohio with a power capacity of 82.5 megawatts. It also runs a mining pool business with BTC.com and deploys bitcoin mining machines.
2. Riot Platforms, Inc. (NASDAQCM: RIOT)

Riot is dedicated to Bitcoin mining and operates large-scale mining activities in the U.S. It focuses on elevating its Bitcoin mining hash rate and infrastructure.
3. Marathon Digital Holdings, Inc. (NasdaqCM: MARA)
Marathon Digital Holdings is a technology company in the digital asset sector, focusing on blockchain ecosystems and creating digital assets within the U.S. The company controls every layer of the Bitcoin mining tech stack and holds a significant amount of bitcoin as part of its corporate treasury strategy.
Marathon aims to reduce emissions and achieve carbon neutrality by sourcing energy from sustainable resources like wind, solar, hydro, nuclear, and biofuel.
Please note: Cryptocurrency investments carry risks, and extensive research is essential. The information provided here does not constitute financial advice.