XRP has surged by 14.97% in the past week, riding the wave of increased interest in altcoins and the broader cryptocurrency market. The recent bullish movement of Bitcoin continues to influence the digital market.
Ripple has not remained on the sidelines. As of October 27, it is trading at around $0.55, signaling a slight bullish sentiment.
However, XRP still faces challenges on its roadmap, and its reputation has taken some hits. Despite this, there is optimism about its future. In this article, we will outline essential facts about XRP that could enhance its position in the market, focusing on the technical perspective.
Let's dive in!
Ripple to Increase Liquidity With New Collaboration
Just days ago, Ripple announced a partnership with Uphold, a global Web3 financial platform. The primary goal of this collaboration is to boost XRP's liquidity and improve its cross-border payment infrastructure.
Investors are excited about Uphold's extensive capabilities across various crypto liquidity venues in the global market. XRP, as a utility asset within a cross-border payment system, benefits from increased liquidity, enhancing its technical flexibility.
This collaboration holds significant potential for positively impacting XRP's price.
Additionally, recent trends indicate that altcoins are sought after for their utility rather than just trading opportunities. Coins like ADA, WBT, and SOL have also gained popularity for their utility.
SEC Litigation Breaking Ice in Favor of Crypto
On October 19, the U.S. Securities and Exchange Commission (SEC) dropped its charges against Ripple Labs CEO Brad Garlinghouse and Executive Chairman Christian Larsen. This marked a significant win for Ripple against the SEC.
In July, Ripple achieved a pivotal victory when Judge Analisa Torres ruled that the company had not violated federal securities laws by offering XRP to retail investors on exchanges.
Earlier this month, the SEC's attempt to appeal its court loss in the Ripple case was denied. These setbacks for the SEC have contributed to improving Ripple's reputation, potentially affecting the price of XRP positively.
Xumm Wallet Hits User Record
Xumm, an XRP-based wallet, recently announced that it has gained over 600,000 active users in the past three months. The platform is actively enhancing its technical capabilities and plans to become more retail-friendly by redesigning its core.
One notable development is the integration of XRP's sidechain Xahua and its "Hooks" feature, which is expected to enhance XRP's utility. Xumm is a significant XRP project, and its progress directly impacts the network's accessibility.
XRP Price Analysis
Over the last quarter, Ripple has maintained relative stability, with prices ranging between $0.47 and $0.53. This pattern became commonplace after XRP's surge to $0.92 following Ripple's partial court victory.
The recent three-month chart reveals that XRP was predominantly bearish until the recent BTC surge to $35,000. With a bullish 100-hour SMA and increased interest in cryptocurrencies, XRP may continue its upward trajectory with similar volatility, including price dips as low as $0.54. However, its overall value may rise to $0.61-$0.62.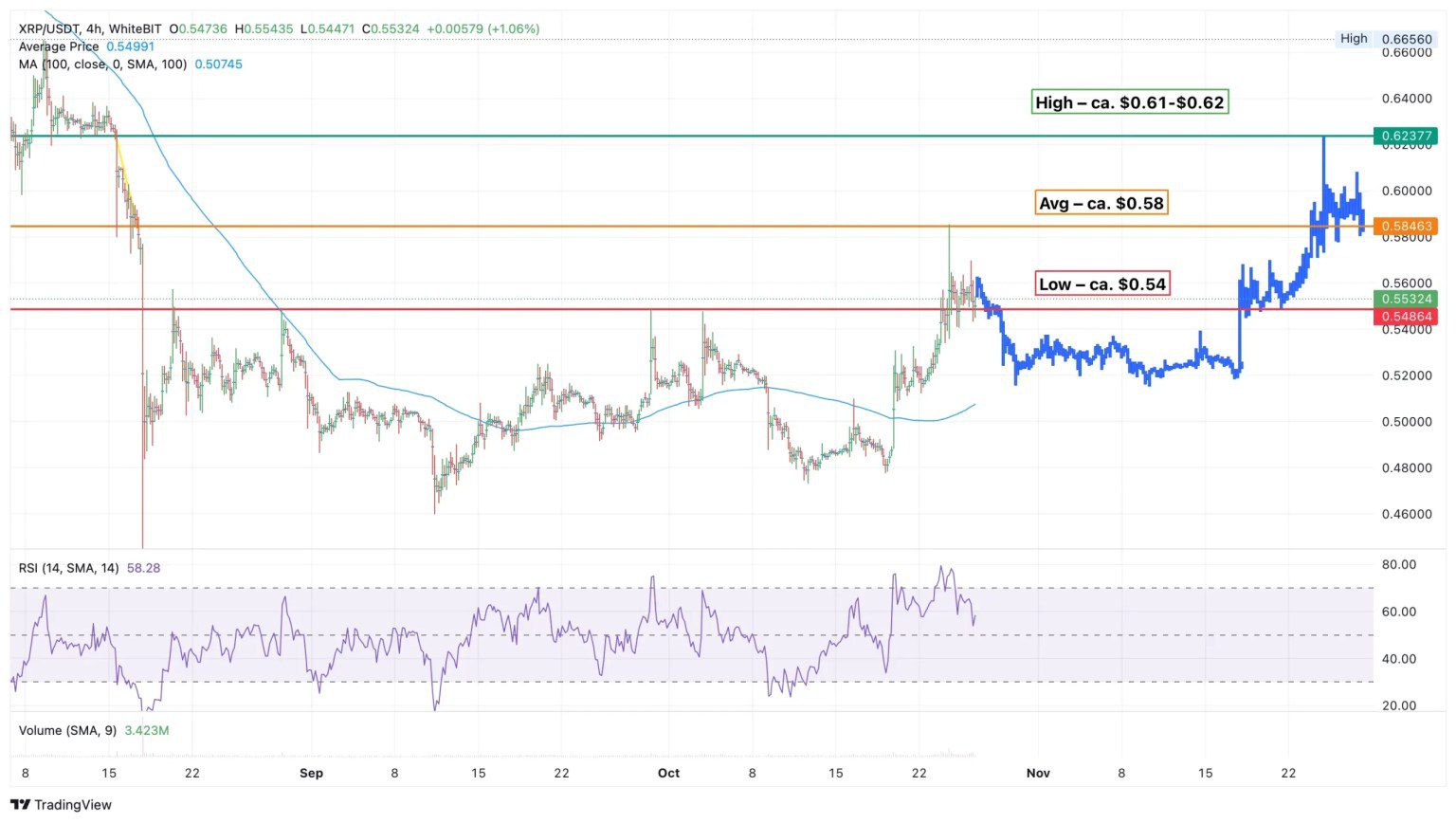 On the flip side, a more realistic worst-case scenario is that, amid the uncertainty surrounding Ripple, XRP might return to its previous range of $0.47-$0.50.
In the ever-changing crypto market, it's crucial to stay informed and analyze updates promptly.
Disclaimer: This article is for educational purposes and should not be considered financial advice. You are encouraged to conduct your research and trade cautiously.
Please note that the "Insert image here" sections should be replaced with the relevant images before publishing the article.